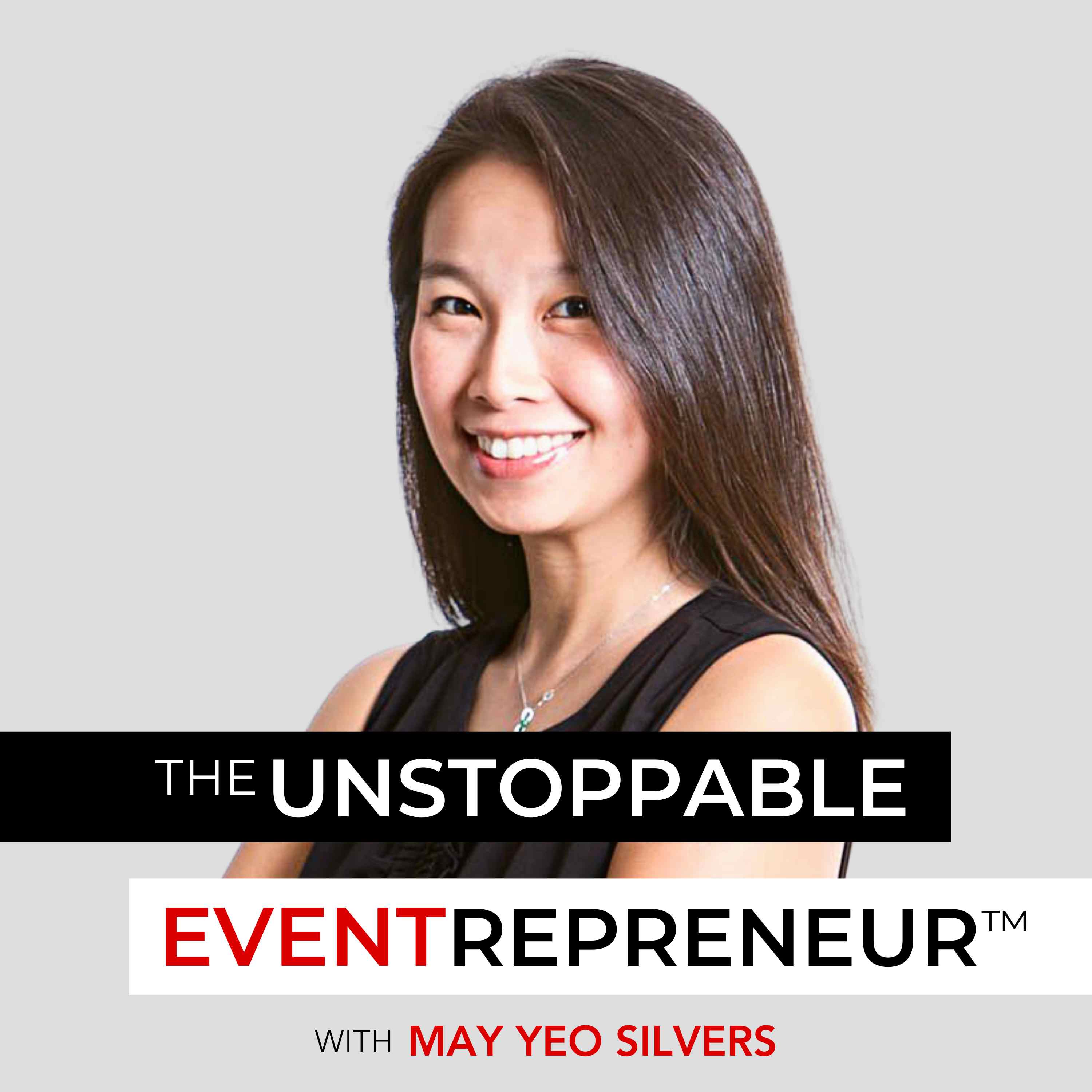 EVENTrepreneur: A person who turns their passion for events into a profitable business. The Unstoppable Eventrepreneur™ Podcast brings you the strategies and tactics you need to build and scale your event planning business. Learn about the thinking and habits you must develop in order to turn your passion for event planning into a full-time job! Learn from a multiple 6-figure event planning veteran, May Yeo Silvers. Her specialty? Her "no sugar coating, giving it to you the way it is" form of communication that breaks down ideas and strategies into actionable step-by-step processes. Tune in, be inspired and get ready to start discovering the untapped potential within you to truly become an Unstoppable Eventrepreneur! For more business tips, strategies and mindset reset, follow along with May: • Join the private facebook group: Events4Anyone: A-Z guide on how to start and grow your event planning business: https://www.facebook.com/groups/events4anyone • Connect with May at: may@events4anyone.com • Website: events4anyone.com • LinkedIn: www.linkedin.com/in/mayyeosilvers • Facebook: www.facebook.com/mayyeosilvers • IG: www.instagram.com/mayyeosilvers • TikTok: https://www.tiktok.com/@mayyeosilvers
Episodes
Thursday Sep 01, 2022
Thursday Sep 01, 2022
As humans, we all want to be liked. However, if pleasing others hinders our business, sense of self, or well-being, we must reevaluate. Today, host May Yeo Silvers lays out how to move past our people-please tendencies that get in the way of our own goals. 
May has repeatedly seen people lose who they are to make others happy, but if you're a business owner who does this, you may lose out financially. As much as we want to do right by our clients, that should not mean that we have to lower our prices or alter how we work when we invest so much of our time and effort into our work. Instead, be clear about your operations and deliverables because it's much more important to attract the right people than the wrong people at the cost of ourselves. 
Although no one wants to be judged, remember that always putting others above yourself is a self-sabotaging act. Tune into this week's episode of The Unstoppable Eventrepreneur for concrete examples of people-pleasing in both business and relationships and what you can do to stop being afraid of saying what you want. 
Quotes
• "Self-development is a constant learning experience and work that I do every single day." (2:49-2:58 | May)
• "It is normal to want to be a people pleaser. But if it hinders who you are as a person and as a business owner, it is going to cost you financially, emotionally, mentally, and physically." (3:06-3:36 | May) 
• "I'm not afraid to let the client know this is how I work, why I work this way, and the results I can deliver. I'm not afraid to be a straight shooter. There's a difference between being rude versus being clear."  (10:38-10:54 | May) 
• "It's important to attract the people you want to work with. But it's equally important to repel the people you don't want to work with. So by being who you truly are and expressing your thoughts, opinions, and personality, you will connect with people who are your people." (15:09-15:36 | May) 
• "You can't control what people think, say, and feel about you. But you can control how you feel, what you think and say, and how you can be a better person in the long run." (20:05-20:18 | May) 
Links
Connect with me at: may@events4anyone.com
Website: events4anyone.com
LinkedIn: www.linkedin.com/in/mayyeosilvers
Facebook: www.facebook.com/mayyeosilvers
IG: www.instagram.com/mayyeosilvers
TikTok: https://www.tiktok.com/@mayyeosilvers 
FB private group: https://www.facebook.com/groups/events4anyone