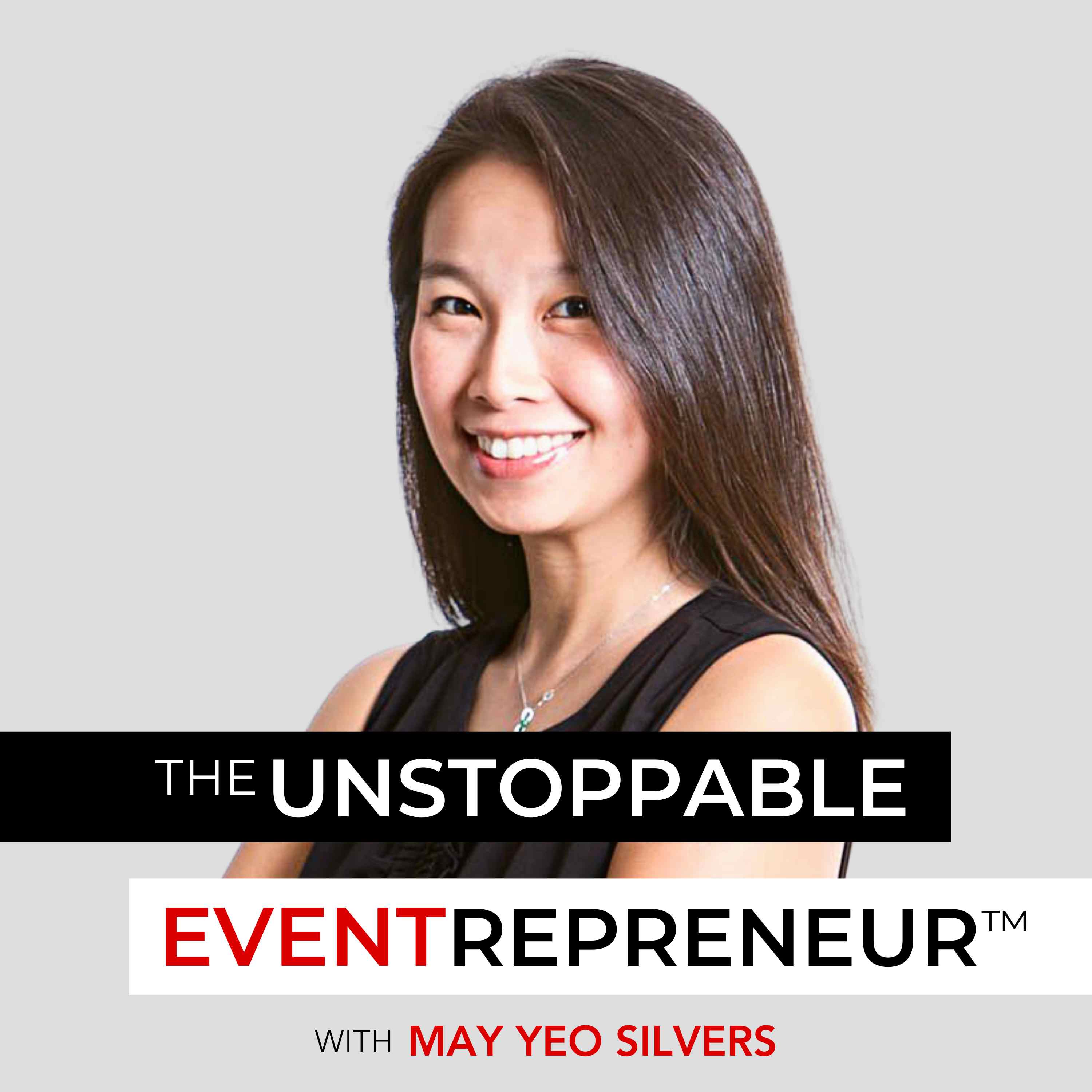 EVENTrepreneur: A person who turns their passion for events into a profitable business. The Unstoppable Eventrepreneur™ Podcast brings you the strategies and tactics you need to build and scale your event planning business. Learn about the thinking and habits you must develop in order to turn your passion for event planning into a full-time job! Learn from a multiple 6-figure event planning veteran, May Yeo Silvers. Her specialty? Her "no sugar coating, giving it to you the way it is" form of communication that breaks down ideas and strategies into actionable step-by-step processes. Tune in, be inspired and get ready to start discovering the untapped potential within you to truly become an Unstoppable Eventrepreneur! For more business tips, strategies and mindset reset, follow along with May: • Join the private facebook group: Events4Anyone: A-Z guide on how to start and grow your event planning business: https://www.facebook.com/groups/events4anyone • Connect with May at: may@events4anyone.com • Website: events4anyone.com • LinkedIn: www.linkedin.com/in/mayyeosilvers • Facebook: www.facebook.com/mayyeosilvers • IG: www.instagram.com/mayyeosilvers • TikTok: https://www.tiktok.com/@mayyeosilvers
Episodes
Thursday Oct 13, 2022
Thursday Oct 13, 2022
Thinking about expanding your business and building a team can be an intimidating part of owning a business. When you first began your business, you probably started it because of your passion. And while it may have started off good with just you, any business that intends to make more money will need to hire a strong and like-minded team. In today's episode, host May Yeo Silvers shares with listeners the ins and outs of building your dream team.
When people think about the concept of building a team, they often begin to add up all of the expenses. Between the hiring process, training, and providing adequate compensation, putting together a team can seem time-consuming. While there is no easy way around some of this, May explains that you must shift your mindset and focus on the bigger picture. What are the roles and responsibilities that you need to fill? And how are you going to put together a compelling compensation plan? At the end of the day, when you hire a trustworthy team, you will free up more of your time to build your customer pipeline to make more money. 
Whatever your end goals are, you will go farther with the right team beside you. Tune into this week's episode of The Unstoppable Eventrepreneur™ to learn more about the importance of building a team, the difference between contractors and employees, and how to find your A-team so that you can grow and scale your business to meet your goals. 
Quotes
• "I have a network of people whom I have built a relationship with who can execute events for me and I don't have to be there. But I still make the money." (06:18-06:32 | May)
• "I'm very careful about who I work with and who I decide to hire to do my events. And my contractors do such a great job my clients will continue to do events with me." (08:18-08:32 | May) 
• "First, we need to shift our mindsets about building a team. Do not let the word "team" scare you." (11:01-11:07 | May)
• "You have to know what roles you need to fill in, the responsibilities that go with it, what a compelling and fair compensation package is,  and what things will attract people to your employee value proposition." (12:59-13:14 | May)
• "Having a team is not a cost center if you know how to monetize your team and calculate the return on investment." (14:37-14:52 | May)
• "I want you to understand that when you hire someone, it is not your responsibility to support the lifestyle of the person that you want to hire." (18:39-18:44 | May)
• "When you are building a team, you're building a movement of people who support you, your mission, your vision, your team culture, your values, and the impact that you're giving to your clients." (19:41-19:54 | May)
Links
Connect with me at: may@events4anyone.com
Website: events4anyone.com
LinkedIn: www.linkedin.com/in/mayyeosilvers
Facebook: www.facebook.com/mayyeosilvers
IG: www.instagram.com/mayyeosilvers
TikTok: https://www.tiktok.com/@mayyeosilvers 
FB private group: https://www.facebook.com/groups/events4anyone