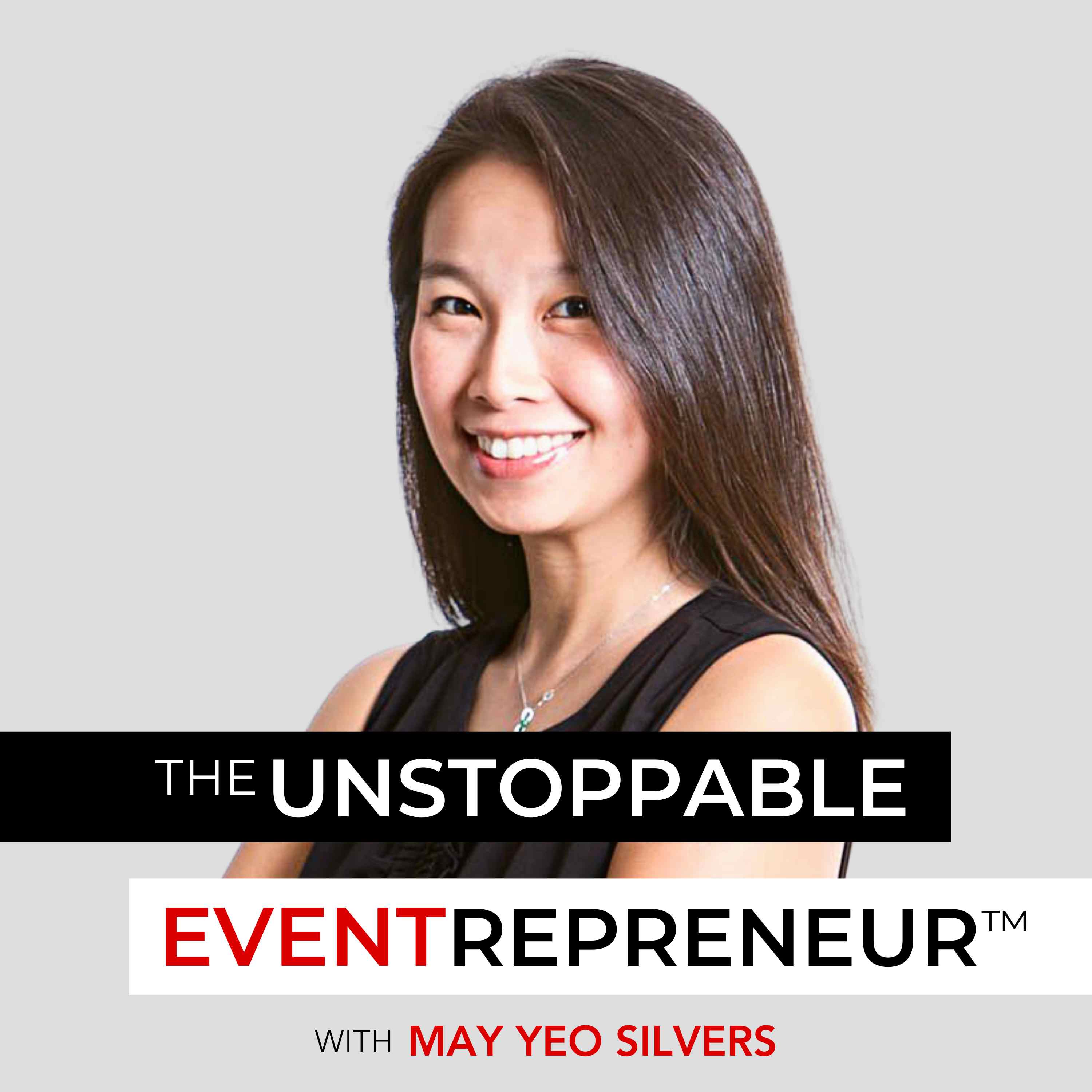 EVENTrepreneur: A person who turns their passion for events into a profitable business. The Unstoppable Eventrepreneur™ Podcast brings you the strategies and tactics you need to build and scale your event planning business. Learn about the thinking and habits you must develop in order to turn your passion for event planning into a full-time job! Learn from a multiple 6-figure event planning veteran, May Yeo Silvers. Her specialty? Her "no sugar coating, giving it to you the way it is" form of communication that breaks down ideas and strategies into actionable step-by-step processes. Tune in, be inspired and get ready to start discovering the untapped potential within you to truly become an Unstoppable Eventrepreneur! For more business tips, strategies and mindset reset, follow along with May: • Join the private facebook group: Events4Anyone: A-Z guide on how to start and grow your event planning business: https://www.facebook.com/groups/events4anyone • Connect with May at: may@events4anyone.com • Website: events4anyone.com • LinkedIn: www.linkedin.com/in/mayyeosilvers • Facebook: www.facebook.com/mayyeosilvers • IG: www.instagram.com/mayyeosilvers • TikTok: https://www.tiktok.com/@mayyeosilvers
Episodes
Thursday Jun 15, 2023
Thursday Jun 15, 2023
When you think of retirement, what does it look like to you? Retirement does not have to mean that you do nothing or even require you to fully leave your business behind. There are many steps you can take to set up your business in a way that enables you to step back from the day to day activities and retire early. Whether you plan to retire or not, these steps will help your business to run more smoothly with less reliance on you. In today's episode, host May Yeo Silvers sits down with serial entrepreneur Will Curran to discuss the steps required to set your business up for early retirement.
As the founder of Endless Events, & creator of the #EventProfs Community, and host of the event industry podcasts, #EventIcons, Event Brew, and Event Tech Podcast, Will Curran has been named one of the most influential people in the meeting and events industry. By designing Endless Events to run successfully without him there, Will was able to semi-retire at just 33 years old. Although he maintains ownership of his business, he now has a COO who can manage everything for him and keep business running smoothly. As an entrepreneur, the goal is to not have to be doing every single thing for your business until the end of time. It can be hard to step back and allow someone else to have control, but it is necessary in order to continue to grow and free up time you could be using in other ways. In order to set your business up for your early retirement, you must become a master at both delegation and documentation, hire and build a trustworthy team of people who can follow the documented processes to the letter, and choose an integrator who will be able to take over your CEO duties. 
Retirement does not have to mean doing nothing with your day. What it really means is having more freedom to choose what you want to do with your time. If you are still involved in the day to day on-site work, then you are less able to take advantage of the freedom that comes with entrepreneurship. Tune into this episode of The Unstoppable Eventrepreneur™ to learn more about the steps necessary to build your business into one that can run smoothly without you being there, so that you can retire whenever you wish.
Quotes
• "Your business doesn't own you, you own it. And it generates income for you to do what you want to do." (11:33-11:38 | Will)
• "We think to ourselves that no one can ever do what I do, but in reality, if you wrote down everything and captured it, you can distill everything you've done into a very simple and easy process." (24:51-25:03 | Will)
• "If you have documented really well and you have delegated really well, a person will start to emerge sometimes within your organization who can follow your vision and take it moving forward." (27:37-27:47 | Will)
• "Whenever you do a task, just write out how you're doing it as you do it." (30:43-30:46 | Will)
• "First tip I'd have for almost every entrepreneur is, hire a personal assistant." (45:01-45:06 | Will)
Links
Connect with Will Curran: 
Website: www.helloendless.com
Website: www.eventprofscommunity.com 
Podcasts: #EventIcons, Event Brew, and Event Tech Podcast
Connect with me at: may@events4anyone.com
Website: events4anyone.com
LinkedIn: www.linkedin.com/in/mayyeosilvers
Facebook: www.facebook.com/mayyeosilvers
IG: www.instagram.com/mayyeosilvers
TikTok: https://www.tiktok.com/@mayyeosilvers 
FB private group: https://www.facebook.com/groups/events4anyone